Alsace was caught once again between France and Germany with the start of World War I. In German-controlled region, the army drafted all young adult males. Then the French army came through the high Thur valley and swept up all the remaining male adolescents too young to be taken, young Adolphe among them.
Deported to a distant French-speaking camp in the interior of France, Adolphe felt completely lost. People looked at him suspiciously because he could only speak Alsatian or German. Even the chaplain refused to give communion for those he regarded as enemies. Eventually the deportees were moved as far as the Camargue on the shores of the Mediterranean, where they were released.
Adolphe thus found himself more than 600 km (370 miles) from home. The journey back would be long and expensive. To survive he went from restaurant to restaurant, painting murals in exchange for hot meals and realizing the battle of living an artist's life. Reaching Vals-les-Bains, he painted several murals and was hired by a silk printing firm in Bourgoin.
Homesickness for his family and the Vosges Mountains overwhelmed Adolphe. He longed for the mountain vistas of dawn and dusk; and their call was stronger than the security and stability of his privileged job. So as soon as the war ended, he returned to Krüth and found his family in dire straits. Gros-Roman took Adolphe back, now as an accomplished artist of 20 years old.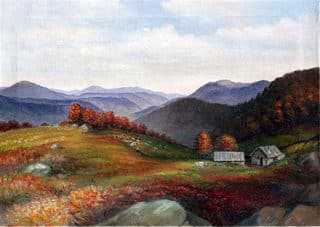 Adolphe's return was a real blessing to his family. The local priest was also happy that he had come back. As a teenager Adolphe had assisted the priest as an altar server. Now the priest invited him to do the bookkeeping for the church. He counted and recorded the donations and the funeral and wedding fees.
Adolphe did the job with precision. One day, when he had nearly finished counting and stacking the coins, the priest walked in. He made a pouch with his long garment and swept the coins into it. "All those details don't count," he said. Adolphe swiftly reached out, grabbed his robe, and sent all the coins flying. He took the priest by the arm and put him out, saying, "I'll count the exact amount because it's my job. But I refuse to continue working for a dishonest man!"
A few years later, Adolphe, who had learned French during his deportation, became an art consultant. (In those days, the upper classes spoke French to separate themselves culturally and intellectually from the lower classes.) Adolphe turned over his salary to his mother. He sometimes chaperoned his sister, who often went dancing. Adolphe always sat alone waiting for her. At a nearby table sat a charming young lady named Emma, who also chaperoned her sister Eugenie. Emma and Adolphe struck up a conversation and found they had much in common, especially in their outlook of the future. Both were very devout.