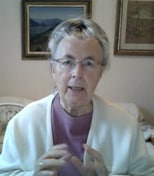 Through special arrangement with the Arnold-Liebster Foundation, Simone Arnold Liebster is available to visit your classroom through a free interactive audio or video conference. Students read Facing the Lion: Memoirs of a Young Girl in Nazi Europe and then prepare questions to send to Simone in advance of the live session.
Video conferences are available to classes who may not have the time or funding to read Facing the Lion, though it is recommended as it allows for a more enriching interchange with students.
Internet-based video conferences have been held thus far with classes in:
Alabama
Arizona
California
Colorado
Connecticut
Florida
Georgia
Illinois
Indiana
Iowa
Kansas
Kentucky
Maryland
Massachusetts
Minnesota
Nebraska
New Jersey
New York
North Carolina
Ohio
Pennsylvania
South Carolina
Tennessee
Utah
Virginia
Washington
Wyoming
South Wales, United Kingdom
Queensland, Australia
Guam, Micronesia
Bangalore, India
Simone lives in France. She and her late husband Max, founded the Arnold-Liebster Foundation in 2002 to promote education about the Holocaust and human rights. The Foundation especially aims to help young people to repudiate racism, xenophobic nationalism, and violence, and to learn to listen to the voice of conscience.
Simone Liebster speaks English, French, and German. She has visited over 50 cities in Britain, France, Germany, Luxembourg, Italy, Belgium, Russia, Spain, Switzerland, Canada, and the United States, relating her experiences to educators, students, and the public.
For more information about arranging an interactive video conference please email: sandra@alst.org