QUESTION #4 :
HOW DID YOU PERSONALLY REACT TOWARD THE SS GUARDS ? WERE THEY ALL VIOLENT ?
HOW COULD PEOPLE BEHAVE THAT WAY ?
IS THERE A LESSON TO BE LEARNED?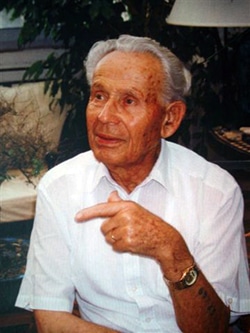 The SS man who rescued me in Auschwitz once told me: "I feel like I'm on a runaway train going downhill. If I jump off, I will kill myself, but if I stay put, I have no hope either. The train is going to crash."
Many of the SS men were misled by the Nazi ideology of the super race. They believed it their duty to force the German population to adopt Nazi ideals. Once assigned to a camp, many SS took to heavy drinking, even if Nazi regulations strictly forbid alcohol. Working in the SS mess hall, I myself saw them getting drunk. We learned to avoid drawing the attention of an SS with a drunken gaze. Worse than the SS were the Kapos. The SS appointed the most violent prisoners to be Kapos. They would cruelly abuse other prisoners and could be extremely violent just to please their SS masters, who would reward them with a favor or an extra piece of bread. A Kapo once saw me step on the pedal of an SS bicycle that I had to bring to the repair shop. He reported to the SS that a dirty Jew had defiled the bicycle. For that offense I was bent over, tied to a wooden table (bock) and beaten with 25 savage blows.
I learned how important proper moral education is. Valuable qualities, such as loyalty, self-sacrifice, reliability, and courage can be distorted if one's education is based on discrimination, unreasonable pride, superiority, greed, and ambition.
The highest moral values have a common foundation: Love. Love does not harm, love is humble, love is merciful, love does not dominate, it cannot murder, it cannot crush. Love is strong enough to resist evil, and it reaches out to those in need.
The rule of life stated by Jesus is: "Love your neighbor as yourself." I can bear witness to the fact that this kind of love could even survive in the camps.