>>> Download Visitor Information <<<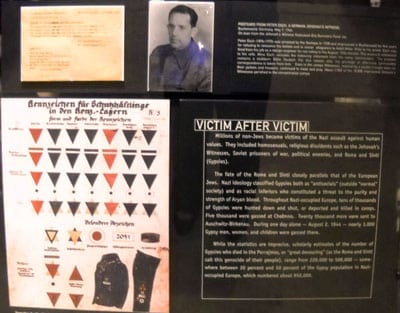 Peter Esch was born in Germany in 1896. He was imprisoned by the Nazi government from 1938 to 1945 for being one of Jehovah's Witnesses.
In 1944, Mina Esch received a postcard from her husband Peter, in the Buchenwald concentration camp. His handwritten message in the lower left was brief and vague. But, she was happy and relieved to receive it. The typed message above it, from the SS Obersturmbannführer bore the terse statement:
"The prisoner remains a stubborn Bible Student (as Jehovah's Witnesses were then known) . . . For this reason only, the privilege of otherwise permissible correspondence is taken from him."
This message told Mina that Peter was holding true to his faith. Peter Esch survived and returned home, remaining faithful as one of Jehovah's Witnesses until his death in 1973.