QUESTION #2:
FAITH PLAYED THE BIGGEST ROLE IN HELPING YOU AND YOUR FAMILY TO SURVIVE, BUT DID YOU ALSO RELY ON YOUR WITS OR SOMETHING MORE?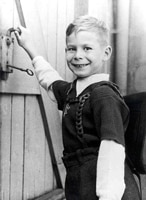 To answer this question I will relate what happened to my mother on one occasion:
Since Jehovah's Witnesses were banned, they could not meet in large groups called assemblies. So in the early 1930's there was a large assembly in Basel, Switzerland. Naturally my mother went, yet when she came home the police stood in front of the door.
The policeman said to my mother: "You have been at that meeting in Switzerland, have you"? Instead of saying 'yes ', which would have meant her immediate arrest, or saying 'no', which she could not do since that would have been a lie, she cleverly answered: "I am surprised at you. You know very well that that was forbidden!" The policeman was so taken back, that he left without arresting my mother.
My father at that time was employed at a company (BASF) and helped to develop a special measuring device. So when the Nazi system wanted him to join the armed forces and certain organizations, his boss gave him a letter of excuse since he was the only one who could calibrate the instrument.
For myself, I experienced on one occasion that quick thinking can be of help at times, so I thought:
On the first day of school we had to assemble in the front yard of the school building. At a given sign from the headmaster we were to give the Hitler Salute and then sing the national anthem. Now I had to make a decision. Go along or stand for my conviction. My thought was that I could not salute or sing the anthem. What would Jesus Christ think of me betraying his Father! I had a choice to make! Well, I looked for the biggest person I could find and hid behind him, not saluting or singing. Somebody saw it and denounced me. The following day they came and wanted to pick me up. Only the interference of my grandfather saved me. (He was a well-known man in the community and well liked and respected.)
My young friends – you figure it out. Was it only wits or something more?
I believe that faith is essential and we have to pray for God's protection. But then we also must act in wisdom, discernment, and harmony with what we pray for.
Sending to all of you my warmest wishes and greetings.