QUESTION #1:
DID YOU OR YOUR FAMILY HAVE SECOND THOUGHTS ABOUT YOUR FAITH AND WHETHER THERE WAS A GOD?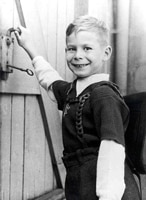 After seeing the hypocrisy of the mainstream religions (the Catholic Church making a Concordat with the Hitler regime and the Protestants' clergy encouraging the people to vote for It), my parents' study of the Bible and their Bible-trained conscience forbade them to get involved with any facet of this system. They never had second thoughts about their faith.
My mother was especially instrumental at instilling in me Bible principles, like not looking for humans to bring about salvation. Only God could do that.
Therefore, I did not do the Hitler salute (Heil Hitler) which means when literally translated that salvation would come from Hitler. Nor did I participate in any youth organizations.
I did not doubt God's existence. Later in my life looking back, I believe that on many occasions God was helping us to survive.